Poetry du Jour Blog
The Kayakers of Poetry

23 July 2017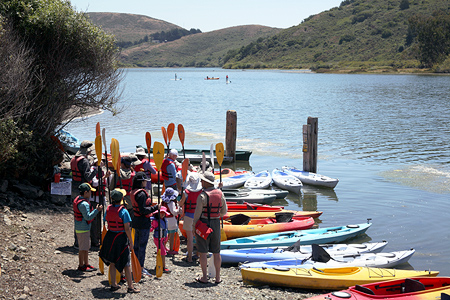 Holding their paddle-swords to the sea, kayak poets readying to launch.
A Seaworthy Writing Instructor
Always a bustle here beside the ocean: children with dogs on leash, off-leash, a succulent breeze, the rising and falling estuary level, kayakers of poetry, live music on the deck, darkness and light. Kayaking is a metaphor for writing poetry. If you've never paddled one, a seaworthy instructor can be of great help.
You learn how to sit, where to place your weight, how to hold the paddle, where to place it in the water, how to balance, blade to blade, safety tips, what parts of the river mouth are dangerous, how to be mindful of protected species. The only thing the instructor doesn't tell you, is where to set your course. That's up to you. Sometimes you know what's out there. Other times, the mystery of the sea pulls you out.
When starting out writing a poem, you also have some tools. A paddle of language and the sturdy vessel of rhythm and sound to carry your body into the unknown. You may have a starting point, but the destination is often unknown.
An elderly man in khakis, blue work shirt, broad hat and sunglasses sits down with his family: mom and dad, grandson and granddaughter. We are looking out to the Pacific Ocean from Café Aquatica in Jenner, CA.
"I have a rotary phone like that," he says to me. "But your phone isn't connected," he observes. My task is to convince him to pick it up and make a call. "In fact," I tell him, "it is." Clearly, there is no phone cord here on the grassy lawn. He looks at me like I'm a little nuts, and then picks up that I'm pulling his leg.
"It's connected to the past," I say. "It's connected to the present. The future." He begins to see what I'm up to. "The phone is connected to love, to hope. It's connected to our dreams, our desires," I explain. He wants to see how it works.
"It's a part of the poem-writing process," I say. Sometimes this invitation is enough to draw the curious to the poetry table. But not him. Not today. I ask his grandson, fidgeting over the back of the Adirondack on the grass, whether he would like to write a poem for his family. Not interested.
They get lunch; baskets of pesto sandwiches, salads, clam chowder. But while they are eating, the granddaughter keeps circling the poetry table with curiosity in her eyes. The snake charming rattle of the typewriter keys hypnotizes her. There is something of the draw of the sea in her. Children, I have found, are often times profoundly open to poetry. More so than adults.
The wind topples my umbrella in their direction. Dad is kind enough to put his sandwich down and help me upright the large sun umbrella. Nobody's hurt. I need to make better friends with the wind. I'm just going to have to settle on sunscreen and my Cal hoodie for now.
About a dozen people in life jackets over at the boat launch are taking kayak lessons. They're standing onshore; the instructor is sitting in a kayak in the water facing them. Everyone is standing with their paddles raised in the air. It looks like some kind of ritual. They are kayak warriors, holding swords against the sea. In a moment, they will launch, each in his own vessel of poetry, eager to discover what lies offshore, guided only by his own imagination.
Just now a burly guy with a beard, black cap backwards-turned, sunglasses, heavy biker boots and a line of tattoos running up his arms like sea kelp walks up to the family eating lunch. "Are these seats taken?" he asks.
---
I am available via Skype for consultation. Please email me to order your gift poem today.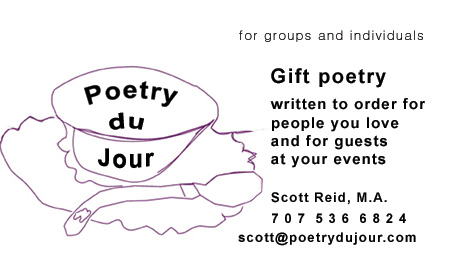 Home